Xenon Migration
Current Version: V1.40 - Updated On: 09/01/2007
View Forum Page (Egosoft Offical Site)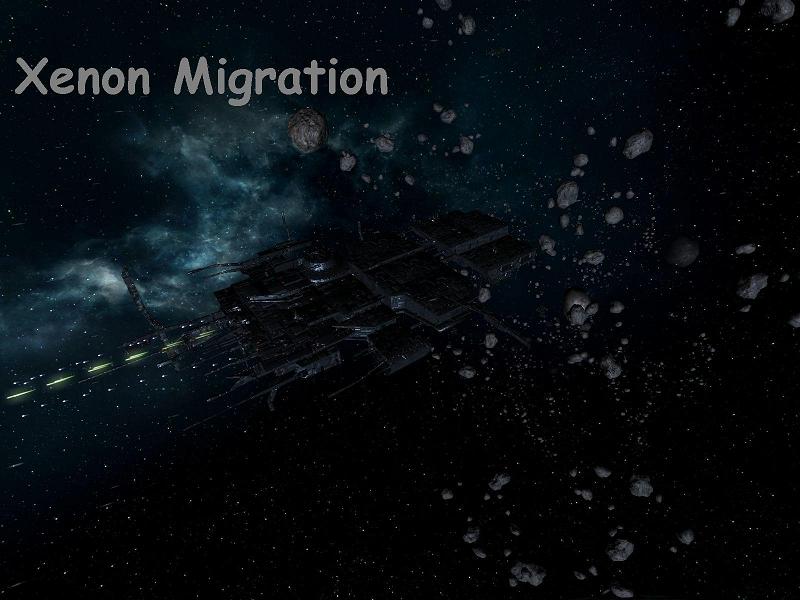 ---
---
1. Introduction
Xenon migration adds alot of extra xenon ships into the game which will travel from 1 sector to another and occasionally stopping on the way to lay waste to other sectors. Due to this script adding lots more ships into the game, it can have an effect on performance as there will be lots more ships to be processed by the game engine.
2. Enabling/Disabling
The script runs as an AL plugin and can be enable or disabled via the Artifical Life Settings menu found in the Gameplay options menu.

Disabling the plugin will remove all the ships created.
3. Configuring
When you first running the game, you will be asked to select the difficulty level. This is via an incomming message, you jsut select the option you want.

Easy: This is the easiest level, you will only get a few ships traveling between sectors, and nothing higher than an M3
Medium: Slightly more ships than easy, includes M6's as well
Hard: Includes all Xenon ships with larger convoys
X-Treme: Larger convoys than Hard and created much more often.
Auto Difficulty: This will dynamically set your difficulty based on your combat rank.
4. Changing Difficulty
You can change the difficulty at any time you want. You must first enable the hotkey which is found in the Controls menu. Like all hotkey scripts, you can find it in the interface tab in the lasst section at the bottom.

Assign it like any other key. Then when you press the key in game, you will receive an incomming message to select the new difficulty level.
---
Change Log:
V1.40

Fixed Xenon Moving Scripts
Added removal of Invincible ships

V1.31

Adjusted killed signal, should prevent invincible ships


V1.30

Added Auto Difficulty
Added use of Xenon LX

V1.20

Added removal of xenon ships when disabling al plugin

V1.10